Now Uber's own drivers are protesting against it
Drivers earning as little as £5 per hour have demonstrated outside the ride-hailing app's London HQ over an increase in the app's commission.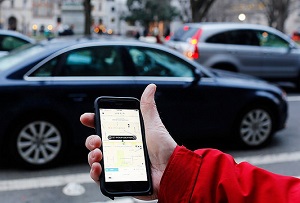 Mention ride-hailing app Uber in conversation and you tend to get mixed responses. For some, it's the plucky (dare we say fierce?) underdog fighting for progress against the combined might of entrenched incumbents and luddite regulators. For others, it's the underhanded invader destroying livelihoods by dodging necessary regulations and denying its own drivers (20,000 in London alone) their rights.
In either case, it faces a lot of opposition. London cabbies regularly logjam the capital's streets in protest and recently fought (and lost) a court battle to have Uber declared illegal. TfL, meanwhile, is considering obstructive regulations, including one that forces passengers to wait longer for their ride (great idea, that one). Now, Uber faces a new protest – from its own drivers.
Drivers belonging to the GMB union are protesting outside the firm's UK HQ about an increase in the commission they have to pay. From today, Uber will take a 25% cut from new drivers, up from 20% before.