UBS coughs up almost £1bn for rate rigging
Banking regulators the world over should be enjoying bumper Xmas parties after topping off the year with another huge set of fines.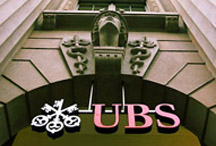 Swiss bank UBS is facing fines totalling $1.5bn (£940m) from regulators in the US, UK and Switzerland. The fines relate to its role in rigging of various interbank lending rates including Libor, Euribor (the Euro rate) and Toribor (the Tokyo equivalent to Libor) between 2005 and 2010. Activity described by the FSA as 'widespread and routine'.
UBS - still reeling from rogue trader Kweku Adoboli's $1.4bn shenanigans and an earlier £500m US settlement related to assisting tax evaders - has agreed to pay £740m to the US Department of Justice and the Commodities Futures Trading Commission, £160m to the FSA and £40m to the Swiss Financial Market Supervisory Authority. It's the second largest set of fines ever levied on a single bank, after the $1.9bn hit faced by HSBC over money-laundering allegations in the US. The fines dwarf the £290m settlement Barclay's made over its role in the scandal earlier this year.
The evidence that UBS employers and managers did game the interbank rates certainly seems fairly comprehensive. Over 2,000 instances where traders, managers and interdealer brokers colluded to fix rates to their advantage have been uncovered. Emails like 'If you keep 6s [six month yen rate] unchanged today, I will do one f***ing humungous deal with you…I'll pay you 50,000, 100,000 dollars, whatever you like. I am a man of my word' seem to have been flying around like confetti. Other communications refer to rate riggers known as the 'Three Muscateers' and 'Captain Caos' suggesting that even good spelling plays second fiddle to profit in the world of finance these days.