UBS culls another 2,000 jobs
The City down-sizing is gathering pace: UBS has announced a further 2,000 job cuts after its annus horribilis...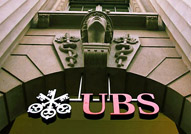 Swiss bank UBS said this morning that it's dumping 2,000 jobs from its investment banking division and shutting down its commodities division completely, as it looks to bounce back from the most disastrous year in its history. That's on top of the 4,000 jobs (mostly in investment banking) that it's already 'rationalised' since the start of the year. Although given that the Swiss bank has managed to mislay an extraordinary $42bn this year down the back of the sub-prime sofa, it's remarkable it has any work left at all...
The job cuts – which aren't exactly a huge surprise, in the circumstances – are part of a radical overhaul of the bank's operations. As well as getting out of commodities and slashing its investment banking business, UBS is also planning to 'substantially downsize' its real estate and securitisation arms. There have also been sweeping changes at boardroom level, including four new non-execs, new committees and a reduction of the executive chairman's powers (clearly a lesson learned from the Marcel Ospel reign). Plus it's been re-stocking its piggy bank: after raising $27bn of fresh capital, it now has one of the strongest balance sheets of any major bank.
Radical surgery indeed – but it seems to be working. During the last three months, UBS actually made a small profit, believe it or not – the first time in a year that it's ended a quarter in the black, even as many of its rivals have struggled. New chairman Peter Kurer admits UBS fared 'reasonably well' during the recent turmoil; in fact, he's now expecting the bank to be 'overall profitable' again in 2009, and to be paying out a dividend again by 2010. So it does look as though UBS may finally have turned the corner (certainly the market seems to think so, judging by its share price bounce). Although that won't be much consolation to those 6,000 sacked bankers….