UBS reeling after $10bn hit
Another week, another big write-down – this time it's UBS, which has lost a whopping $10bn down the back of the sub-prime sofa.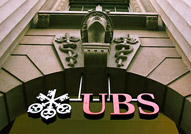 Just in case you were thinking that the worst of the trouble might be over for the beleaguered banking sector, along comes UBS – Europe's largest bank by assets – to put the record straight. The Swiss bank said this morning that it's writing down $10bn from the value of its US sub-prime holdings. Apparently it has 'revised key input parameters of the models that are used to estimate lifetime default and resulting losses' – in other words, it's finally coming clean about the amount of rubbish in its portfolio.
UBS CEO Marcel Rohner – in a desperate attempt to look on the bright side – said the write-downs would at least bring about some clarity after weeks of distracting speculation. 'Losses in sub-prime are very disappointing but come at a time when most of our businesses are generating close to record levels of profit,' he said today. And given that he only took over in July, he's unlikely to be following his former Citigroup and Merrill Lynch counterparts to the dole queue.
The huge losses mean that UBS has had to look for an injection of capital to bolster its balance sheet, and as seems to be the fashion these days, it's gone east to find it. GIC, the Singapore government's investment vehicle, is ploughing in SFr11bn, while another Middle Eastern investor (as yet unnamed) is providing a further SFr2bn. UBS is also scrapping its dividend, and re-selling some treasury shares that it was planning to cancel.