UBS starts the great City cull
Let's hope UBS staff enjoyed their bank holiday. About 5,500 of them are now facing a P45...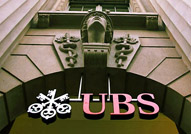 UBS revealed its first quarter results this morning, and the news wasn't pretty. The Swiss bank managed to lose $11bn in the first three months of this year – largely because it's now been forced to write down a whopping $37bn on its dodgy US investments. That's more than the GDP of Liechtenstein, Tunisia and the Dominican Republic – which not surprisingly makes it the biggest casualty of the sub-prime shenanigans.
It will now be forced to shed about 7% of its workforce – equivalent to about 5,500 people – through redundancy, redeployment or 'natural wastage' (which sounds particularly painful). Around half of these jobs will be cut from the investment banking division, the main culprit for these eye-watering losses. Desperate to shed its 'boring Swiss bank' tag, UBS decided to adopt a more adventurous strategy, pumping money into riskier assets like sub-prime mortgage derivatives. $37bn later, that didn't out to be such a wise move… (It's now desperately trying to extricate itself from all these positions, cutting its exposure by about 60%)
However, all this comes far too late to avoid swingeing job cuts – or to save the job of former all-powerful chairman and chief executive Marcel Ospel, who's already decided not to seek re-appointment (which the cynic might call the 'jump before you're pushed' strategy). And although new boss Peter Kurer is insisting that the worst is now behind them (a theory that the Bank of England seemed to support last week), chances are that it will take years for the bank to recover from the damage to its reputation.