UBS stung for £30m over Adoboli fraud
The Swiss bank has been fined £29.7m by the Financial Services Authority over the failures that allowed its former trader Kweku Adoboli to commit the biggest ever bank fraud.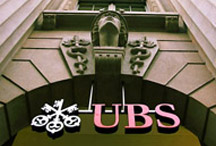 It was a sum to make executives choke on their cereal (or vomit later in the boardroom), when it emerged that trader Kweku Adoboli had lost the bank £1.4bn with bad trading. But it was announced today that UBS will have to cough up a further £29.7m because of the episode.
The City regulator reckons that it was the bank's fault that the massive losses were allowed to happen. Apparently: 'UBS failed to take reasonable care to organise and control its affairs responsibly and effectively, with adequate risk management systems and failed to conduct its business form the London Branch with due skill, care and diligence.'
As a result of settling early with the regulator, the bank managed to get the fine notched down from £42.4m.
Meanwhile, Adoboli has been jailed for seven years over the bad trades, guilty of what police are calling the biggest fraud ever seen in the UK's history.