A UK architect has unveiled plans for the tallest pair of towers in the world
The pair of needle-like skyscrapers will tower 1km above the city of Wuhan in central China. According to architects Chetwoods, they're designed to double as smog filters.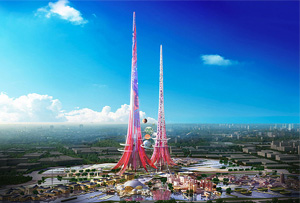 What do you do when you're given the brief to design a pair of towers in the most populous city of one of the most polluted regions in the world? Why, try to solve all its problems, of course: British firm Chetwood Architects has unveiled plans for a pair of needle-like towers 1km high - almost150m taller than Dubai's Burj Khalifa, which incorporate just about every possible eco-measure available.
The Phoenix Towers - which look like a pair of futuristic stalagmites - will begin construction in the central Chinese city of Wuhan in the next year. Their design includes wind turbines, thermal chimneys, solar panels and rainwater harvesting facilities, as well as a massive vertical 'green wall' and even insect hotels.