UK arms sales splutter
Rolls-Royce and BAE Systems are among the British firms suffering from falling defence budgets.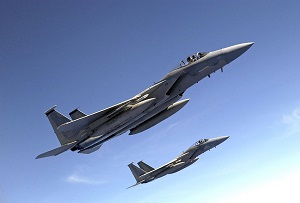 In normal circumstances, most people would see a 1.3% decline in global military spending as a good thing. War is bad, right? But arms manufacturers (not to mention millions of Syrian refugees) might have a thing or two to say about that. Sales at the eight British defence firms in the world's top 100 fell 9.3% between 2013 and 2014 as budgets tightened in the UK and US.
Britain remains the second largest arms producer after the USA, with sales from its biggest firms totalling nearly $38bn (£25.5bn), according to the Stockholm International Peace Research Institute (SIPRI). The researchers excluded China, though, as they felt unable to rely on Chinese figures for some reason...
Beleaguered aeronautical giant Rolls-Royce could probably have done without the shrivelling of western defence contracts, but actually outperformed the national average. Arms sales at the world's 22nd biggest defence company fell 2.2% to $5.4bn, ahead of potential government-brokered rescuer and third-placed BAE Systems, which had a 4.1% sales drop to $25.7bn.