UK business 'loses £5bn' per year by not promoting women
New research reveals that companies leaving women in middle management roles rather than funnelling them to the top are costing the UK £5bn per year in lost productivity.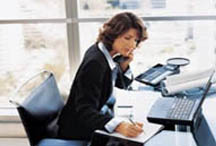 Research commissioned by Alexander Mann Solutions and networking organisation Everywoman shows that 43% of women in middle management roles feel they are likely to leave their current employer within two years.
The research surveyed a cross-section of 400 UK-based female middle managers, as well as 200 HR leaders working in the same organisations. The aspects of their work that female middle managers were least satisfied with were the lack of opportunity (48% cited this), the likelihood of progression up the ladder (47%) and 'clarity of career path' (40% cited this).
Rosaleen Blair, the founder and CEO of Alexander Mann Solutions, said: 'Focusing on increasing the numbers of women on boards is missing the fundamental problem of how to improve the pipeline of talented women from middle management to senior management. Female talent is often lost at this middle management level, so businesses need to give this segment of the workforce more attention.'