UK car manufacturing boom driven by overseas demand
Some 150,000 cars were built in November as production hits top gear.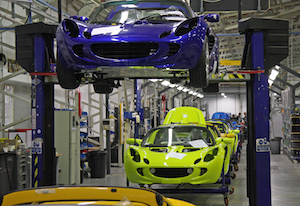 Volkswagen might still be trying to weather the storm of the emissions scandal aftermath, with its plummeting share of European car sales the latest in a flurry of bad news. It's not all doom and gloom for the motor industry though as UK car manufacturing is picking up the pace.
Production was up 9.3% in November with 150,084 cars built, compared to 137,347 for the same month in 2014, according to figures released by the Society of Motor Manufacturers and Traders (SMMT).
'November's manufacturing gains are encouraging, and put the car industry in a strong position with one month left in the year.' He noted the pick-up in export production as particularly noteworthy, claiming it was 'proof that despite challenges in some global markets, the UK continues to build cars that appeal to consumers across the world'.