UK CEOs still the poor (ish) relations
US bosses still earn half as much again as their UK counterparts - though the gap is narrowing...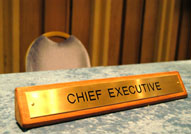 The average UK CEO earns an annual pay package of about €6.3m, according to the Hay Group management consultancy. That makes British bosses the highest earners in the EU – but they still lag way behind Switzerland, where CEOs take home €10.8m a year, and the US, with an average of €9.7m a year. Then again, there was a time when US head honchos used to earn twice as much as their EU equivalents – clearly the credit crunch is starting to bite...
The Hay Group research looked at pay details in the published accounts of the top 50 listed companies in both Europe and the US. Traditionally, pay packages have always been much higher on the other side of the pond – but the gap is narrowing. And for CEOs in chocolate-loving tax haven Switzerland, it's ceased to exist entirely – indeed, they now earn an average of €1m more than US bosses. Britain led the way within the EU countries, although it was closely followed by Italy – not the obvious choice if you were picking a centre of corporate excellence, perhaps, but they apparently pay their CEOs an average of €6.2m a year.
Generally speaking, there are still big differences between the structure of pay deals in Europe and the US. The former tend to pay a higher proportion of the total as base salary – whereas in the US, bonuses and other long-term incentives tend to be much higher (LTIs were 625% of salary for US CEOs, and just 125% of salary for European CEOs), so the overall pay packet ends up being higher too. But it's quite possible that this will change as the downturn deepens, suggests Hay's Simon Garratt: 'Companies in tough circumstances typically place more emphasis on LTIs, to reward those who successfully guide them through the bad times,' he says. 'So this proportion of the package may increase'.