UK debt burden hangs heavy: government borrowing up £2bn last month
Britain borrowed £11.5bn in April, up 21% on last year, as interest repayments hit £1bn a week.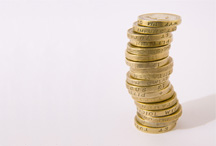 In a sign that Britain's economic recovery could be on shaky ground, the Treasury started the fiscal year with a £2bn rise in public borrowing.
The government borrowed £11.5bn in April – up from £9.5bn a year earlier. This pushed up public sector net debt to £1.27trn in April, equivalent to 75.6% of GDP, the figures from the Office for National Statistics showed.
And while the UK's debt continues to swell, interest is accumulating. Britain is on course to spend £52.1bn this year on debt interest payments alone – £1bn a week.