UK economic forecast as sunny as the weather
A swathe of positive economic news has sent business confidence soaring.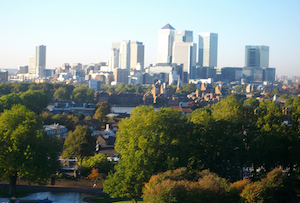 It's a good day for us Brits. Those not hampered by a crippling post-Murray hangover are basking in sunny news from the UK economy, too...

Various economic sources have hinted at an end to Britain's growth woes. Capital Economics, the economic consultancy, has released its third quarter review predicting UK annual growth of 4% from 2015.

(Err, 4% are they serious? It seems a tad optimistic given that we were only growing at just over 3% at the height of the booming noughties. But we can dare to dream).

The report, which suggested current growth should create a more balanced economy lead by manufacturing, energy and construction, expects growth of 0.8% this year, rising to 1.5% in the next.

Meanwhile, accountancy firm BDO has found that that optimism over future trading is at its highest point for over a year. It stated that output is at a 13-month high, bolstered by a rise in manufacturing.

Research by Lloyds has also painted a pretty picture, finding an increase in business activity across all English regions last month, with the fastest improvements made in London, the North West and the West Midlands.

An announcement by the IMF tomorrow is expected to be the proof in the pudding as it releases its World Economic Review. It's hoped the fund will revise Britain's annual growth forecast up to 1%, from its pessimistic April prediction of 0.7%.

The news comes after reports last week from the British Chamber of Commerce (BCC) that Britain's business confidence is at a seven year high.

'The UK economy is slowly strengthening,' David Kern, chief economist at the BCC said last week.

'If recent progress can be sustained, there are realistic hopes growth forecasts will be revised up further,' he added.

In addition to growth improvements on home soil, it was also reported over the weekend that last week's free-trade talks between Europe and the US could be worth a tasty £10bn to the UK economy. Nice.

That said, today's cheery news hasn't been delivered without warning: various spokespeople have reminded us of the precarious position the British economy still finds itself in.

'While it's encouraging to see confidence continuing to improve, we should be mindful of the zigzag trend that has characterised UK business confidence since 2008,' said BDO's Peter Hemmington.

'This time, the worry is that financial market turmoil arising from the actions of the Federal Reserve will choke off yet another nascent UK recovery.'

On top of the potential threat from US fiscal policy, we'd do well to remember our old friend the Eurozone and the power it too holds over our recovery - although seeing as the Greeks have just reached a deal with their lenders to pave the way for a 172bn euro rescue deal, things are even going well for them.
But for now, we should enjoy this unfamiliar wave of positive economic chatter. With all eyes on the IMF tomorrow, let's hope that the fund and its all-important report don't rain on our sun-soaked parade.
Image: Flickr EEPaul