UK economy shrank more than thought in Q4
Britain's economy shrank more in the final quarter of last year than initial figures suggested, according to the latest ONS data.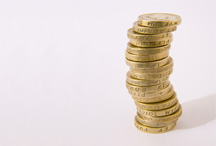 Sorry, folks, but it's worse than we thought. Well, only a basis point worse, but still not ideal. The Office for National Statistics today revealed that previous figures showing a 0.3% contraction in the British economy for Q4 last year were inaccurate – the real figure is 0.4%. If there is an upside, it's that the revised figure for the first quarter of 2012 remained unchanged at 0.3%. But that still means that we've had two consecutive quarters of contraction - the calling card for a recession - and it was worse than we thought.
The on-the-ground effect of this has been reduced household spending – an essential economic metric. We've had petrol prices going through the roof (although they have come down a bit in recent months) and wage increases not matching the rate of inflation, which resulted in a fall in household spending of 0.1%. Again, it doesn't sound all too bad, but the original figures had estimated 0.1% growth.
It's worth noting that the ONS puts this reduction in spending down to less of our cash being splashed on financial services (we're not taking out more debt that needs servicing), and instead we've actually increased our spending on food, drink and leisure. Seems there are a lot of Brits out there who will eat, drink and be merry regardless of the economic storm blustering all around them.