UK edges closer to boardroom gender balance
The percentage of women on FTSE 100 boards has increased to 19% but there's still a 'long way to go'.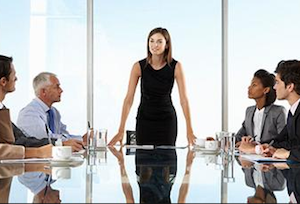 Click here to find out about our 2013 Inspiring Women conference, November 27
It has been two years since Lord Davies launched his report on women in the boardroom and it looks like some firms have taken his 'threats' of government intervention seriously and upped the number of women on their boards. As of 1 October, women made up 19% of FTSE 100 directors – up from 17.4% in May and up from 12.5% in 2011 (when Lord Davies put the boot in).

It's good news, but can hardly be proclaimed as fantastic, an increase of 6.5% since 2011 is pretty small and still leaves us trailing behind other countries, including Sweden, Latvia and Romania. Business secretary Vince Cable is delighted by the news though, proclaiming good progress is being made towards Davies' target of 25% by 2015.

'Businesses are clearly still striving to get the right mix of talent around their boardroom table and we must not lose that momentum,' chirped Cable.

'We have until 2015 to reach our target of 25% of women on the boards of listed companies which Lord Davies set us two years ago. With today's encouraging figures, I am confident we can get over the finish line.'

Davies himself, took a more measured approach to the figures, warning, 'we've got a long way to go.'

'The target of 25% in the FTSE 100 by 2015 was rightly ambitious but the increase in the figures is a sign that businesses are not letting the issue pass them by. However, this is no time to get complacent and think that the job is nearly done,' he said.

Sixty-six women need to be appointed to boards to reach the 25% target. Since March, 25% of FTSE 100 board appointments have been women. Non executive roles have performed even better, almost a quarter of non executive roles now belong to women, up from 15% in February 2011.

Almost all of the firms in the top tier list have now got women on their boards but there are still six companies in the FTSE 100 without any women on their board. MT is happy to name and shame them as Antofagasta, Croda, Glencore Xstrata, London Stock Exchange, Melrose and Vedanta. Vince Cable has reportedly broken out the headed paper and written to all six companies, asking what they are doing to address the issue.

Gold stars go to Diageo and Unilever – women make up more than a third of their boards. If the rest of the firms pulled their socks up, we'd be a lot closer to equilibrium, but with the target of 25% being referred to as 'ambitious' we might be waiting quite a while.