UK exporters rediscover their mojo
British manufacturing has had a tough time lately. But are things finally looking up?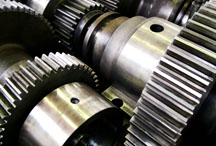 At a time of much economic uncertainty, it's good to find snippets of positive news. And here's one: British manufacturers are starting to sound bullish about their export prospects again. According to the CBI's latest trend survey, 15% more firms expect the pace of overseas orders to speed up rather than slow down. That's good news at the best of times, but it's particularly useful right now - and particularly after a fairly grim summer...
Fuelled by recovery overseas, UK manufacturing is cranking back into business. Our producers are planning the highest level of investment for 13 years; in the last quarter they took on staff at the fastest rate since January 1989. Brit manufacturers GKN, the aeroplane parts maker, and tech firm Senior have just reported impressive profits too. And there are those who say British manufacturing died out with the Carry On film. What's going on?
CBI chief economic adviser Ian McCafferty ushered in the good cheer by describing the recovery as 'well grounded', and added that it was set to continue, 'despite a soft patch last quarter'.

Arguably, that's putting it lightly: according to the CBI's report, orders have fallen well below normal levels to hit a six-month low. Between July and October, the number of businesses with below-average orders jumped from 16% to 28%, largely because of a slowdown in overseas sales.
Admittedly there's not much good cheer around at the moment. According to Reuters' confidence index, wider economic optimism is at its lowest level since a couple of years back, when the whole system almost went belly-up - only 27% of those surveyed believe the UK's economic outlook will improve over the next 12 months, while 48% fear the economy will get worse. But that makes our manufacturers' bullish approach to investment all the more impressive. Who said the good old stiff upper lip was dead?
After suffering more than other sectors in the downturn, manufacturing seems to be recovering better than most. And while it was hardly in a position to have got much worse, these are still encouraging signs. Indeed, the upcoming November issue of MT is dedicated to the continued success of British business. The good news: it's a healthy issue.