UK flagging on health and safety
Is it time to start worrying more about your employees' well-being than your bottom line?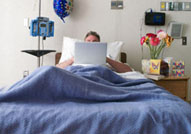 That's certainly what Premierline Direct would argue. The insurer surveyed SMEs on their approach to health and safety, and was shocked to find that 'increasing profits, investing in sales and marketing and gaining the funds to grow were considered more important than staff welfare and safety'.
Now we don't want to sound callous. Of course the well-being of staff should be a key concern for employers - especially when, as Premierline points out, the Health and Safety Executive says injuries and accidents are costing business more than £3bn a year. But you'd have to be pretty naïve to think that investing in the pursuit of healthy profits wouldn't always be a priority for the average growing business. And it's hardly a boost to an employee's health to find themselves out of a job of a Monday morning because their bosses blew their scant budget on ergonomic chairs rather than finding clients.