UK and Iceland spat gets even frostier
The row between the UK and Iceland governments following the collapse of Icesave keeps escalating...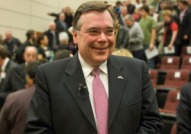 The ongoing fall-out from the demise of Lansdbanki's Icesave arm seems to have sparked the biggest diplomatic row between Britain and Iceland in years. After the Icelandic government reneged on its obligation to pay out compensation to the thousands of UK savers whose money was tied up in Icesave, the UK government has reacted angrily, threatening legal action and seizing Icelandic assets in this country. Now Iceland is blaming Britain for its latest setback, the nationalisation of Kaupthing, and suggesting that the seizure of assets – under anti-terrorist legislation – counts as an 'unfriendly act' against an ally. What next? The Royal Navy mobilising in the North Sea?
OK, so that's a bit unlikely (not least because Iceland probably can't afford a ferry ticket at the moment, let alone a navy). But tensions are certainly higher than they've been at any time since the Cod Wars, a 1970s row over fishing rights in the North Atlantic. The Prime Minister Gordon Brown is taking a hard line towards Iceland's refusal to shell out the compensation money (although since all their big banks are now on the verge of collapse, it's not really surprising that they can't afford to pay up), calling it 'completely unacceptable'. Apparently, he rang his Icelandic counterpart Geir Haarde and told him it was 'effectively illegal action' that they'd taken. 'They have failed not only the people of Iceland, they have failed people in Britain,' Gordon grandstanded. Hence the seizure of assets and the threat of legal action.
However, Haarde isn't at all happy about this. He suggested yesterday that Alistair Darling's statement threatening legal action was what pushed the struggling Kaupthing over the edge. And he seems to feel very strongly that using anti-terrorist legislation to seize the assets of a NATO ally simply isn't cricket (or whatever the equivalent of cricket is in Iceland). Apparently he rang the Chancellor to shout at him (so perhaps some good has come out of all this), accusing him of an 'unfriendly act'. In fairness, losing the savings of 300,000 UK citizens doesn't sound to us like a particularly friendly act either, but we're no experts on this whole diplomacy thing.