UK insolvencies rise, but HMV expects return to profitability
The number of companies that went insolvent in the first quarter rose 10% on last quarter of 2011, but it's not all bad news - HMV is gearing up for a return to profitability.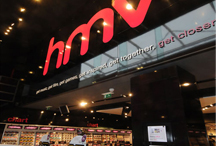 The latest figures from the Insolvency Service make depressing reading,showing that 1,290 firms had administrators or receivers appointed, whereas the previous quarter, there were only 1,173 in trouble. Year on year though, the picture looks less stark: the number of corporate insolvencies compared with the same period a year ago only increased 1.8%.
After a slew of high-profile collapses of major retail outlets during 2011, including Habitat, Ted Hughes and Jane Norman, the word 'administrator' has seen a lot of use in the media, but there is good news to be had even on the High Street: HMV for example, which despite making a worse-than-expected loss of £16m last year, has announced that it expects a profit of £10m in the year from 28 April 2012.
The company has been through the mill in recent years, after online retailers and digital music sales did significant damage its revenues, and it puts part of its loss in the last year down to a weak schedule of new film and music releases in the first part of 2012.