UK manufacturing output lowest in three years
Economic woes continue to afflict the factory floor, as the sector cuts back on output and employment.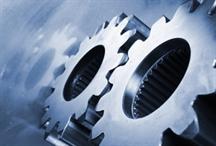 The UK's struggling economy shows no signs of spluttering back into life, as yet another set of statistics reveals another stagnating sector. This time, the Markit/CIPS manufacturing Purchasing Managers' Index dropped to 45.9 in May, down from 50.2 in April. This is the lowest index reported since the depths of the 2009 recession.
Adding to the disappointment, the report also says that this is the first time the sector has contracted for six months. The only reason the decline was not even sharper, says the report, is because firms were able to divert spare capacity to complete existing contracts and clear backlogs of work. But with less in the pipeline, the machinery is bound to be coughing out fewer goods whilst the UK recession stumbles on.
To make matters worse, the report shows that more than a third of companies surveyed reported a decline in the number of new orders in May. So whilst clearing the backlog, many companies are not even getting new work in the near term. Part of the problem is the worsening situation in the eurozone. Domestic demand is already subdued, so any downward movement in Europe (our biggest export market) is bound to hit the manufacturing sector directly.