Could UK plc ever be powered by hydrogen?
Wind, nuclear, even tidal - these are the usual alternative energy suspects. But how about a hydrogen economy instead...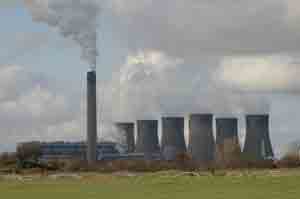 It's the lightest element in the periodic table and also one of the most abundant –every molecule of water on the earth's surface comprises two hydrogen atoms and one oxygen atom. It's highly flammable (even explosive - remember the Hindenberg disaster?) and it's what powers the sun that shines on us all (if we're lucky). So maybe it's not such a crazy idea for a fuel source.

That's certainly what proponents of the so-called Hydrogen economy reckon anyway. The idea being that replacing the wide range of petroleum based hydrocarbons we rely on today (oil, petrol, natural gas, coal and so on) with hydrogen would not only be greener but also make managing our remaining carbon emissions a lot more straightforward. A boon for business, right?

Hydrogen's great secret is that it is so clean burning – recall if you will your GCSE chemistry: combining hydrogen with oxygen (from the air) yields energy and water only. No carbon dioxide, no NOx, no acidic sulphur compounds.
The lightest element in the periodic table
So with the promise of zero emissions (at least from the tailpipe) no wonder that car makers have been fiddling about with hydrogen as a fuel for decades – although it's only very recently that the first hydrogen powered vehicles (like the Toyota Mirai reviewed here) have come to the market, and even then they are really esoteric 'proof of concept' products.

The fuel cell technology used by the Mirai and its fellow FCVs is genuinely amazing, but even deep green buyers may be slightly put off by the fact that there are currently only five (yes five) hydrogen filling stations in the whole of the UK. Gulp.