UK plc loses its mojo - as double-dip fears re-emerge
Business confidence in Britain has sunk as low as it did during the worst of the recession.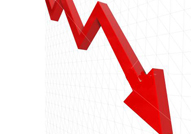 The Business Trends optimism index, published by accountant BDO, fell to 91.6 last month, from 93.1 in August. While that might not make much sense to the casual observer, the significance is that it marks a return to levels of pessimism not seen since May 2009, in the depths of the recession. And it chimes with a Deloitte CFO survey, also just out, suggesting there's a 34% chance that the economy will head straight back into recession. So much for things looking up. Time for the UK business community to unpack those half-empty glasses instead?
BDO's survey (of 11,000 major UK companies) asks companies about what trading will be like two quarters from now, and any result below 95% points to recessionary conditions. So this isn't good: in fact, BDO reckons all signs point to an economy that will stop growing early next year, and then start to shrink between April and June. This has prompted the firm to add its voice to the mounting chorus calling on the Bank of England to pump more money into the economy via quantitative easing, on top of the £200bn already spent (much as the Federal Reserve is expected to across the pond next month).

Our Government is sure to keep a close eye on the numbers over the next few weeks: its vast program of cuts hangs on the idea that he economy is growing. With everything potentially slowing down, perhaps George Osborne may want to take a second look at his growth figures, remember to carry the one, and take his foot off the pedal in his program of proposed cuts.

So what does this mean on a practical level? Most UK CFOS have become averse to risk, instead prioritising cutting costs and increasing their cash flow. But thankfully a quarter are still out there with their balls out, launching new products, moving into new markets and making acquisitions.

There is, however, some cause for a toast. Credit, at least, seems to be getting cheaper and easier to come by: CFOs are now reporting the cost of new credit as being lower than at any time since 2007. For the first time, more CFOs rated credit as being available than hard to obtain. Signs, then, that all is not totally amiss (for bigger companies, at any rate). But we expect it'll be a while before those glasses are overflowing again.