UK sales tumble, global car business hits brick wall
Buckle up: October's UK car sales fall at the fastest rate for 17 years, as Toyota's profits slide 69%...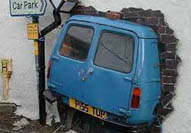 The combined efforts of the nation's Arfur Daleys only managed to shift 128,352 new cars in Oct, 23% down on the previous month's already grim figures. Hefty discounts and incentives have failed to boost activity, since potential buyers either cannot get credit terms or are hanging onto their precious cash and driving the old jalopy for a another year or two. The prognosis for both car dealers and factories like Nissan's in Sunderland and Honda's in Swindon is thus looking pretty dour.
But Toyota's surprise Q3 profit collapse – and slashing of its forecast for 2008 by more than half, down to 559bn Yen - is perhaps the worst news of all from the industry. When even the biggest and most efficient car maker in the world can't manoeuvre itself out of trouble, what chance does anyone else have?
BMW – another car industry success story of recent years, whose impeccable blue-and-white brand is amongst the most prestigious in the world – is also in bother, posting an almost as bad 63% Q3 fall in profit. In fact it's hard to think of a major motor manufacturer that isn't bracing itself for a very bumpy ride, indeed. Gentlemen, arm your airbags.