UK SMEs feeling cheerier about recovery
The UK is generally feeling pretty gloomy about recovery - but SMEs are more optimistic than most.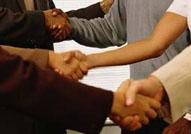 Almost two-thirds of the UK's SMEs are expecting their revenues to increase next year, according to a new international survey by serviced office provider Regus. Although the UK as a whole is pretty downbeat about the economy, relative to other parts of the globe, the research suggested that smaller businesses are feeling much chirpier than larger ones. So either SMEs will be the engine room of the UK recovery, or the sector contains a lot more eternal optimists...

Of course it's all relative. The UK as a whole is feeling pretty gloomy about our 'bouncebackability', at least compared to our chums overseas. Of the 11,000 firms questioned, the consensus was that a 'strong economic recovery' wouldn't start until summer 2010 - but in the UK, that estimate was revised downwards to September 2010 (only European basket case Spain - one of the few places whose property markets has tanked as badly as ours - was more pessimistic than that). And it's perhaps not surprising, since we've felt the pain more keenly than most: 34% of UK firms reported a drop in profits last year, compared to a global average of 28%.

Still, we were interested to see that smaller UK companies are not only more optimistic than their larger brethren; they're also worrying about very different things. Whereas bigger firms are mostly preoccupied with cutting costs and hanging onto staff - which you could argue were fairly short-term reactive goals - SMEs are far more concerned about their marketing and customer retention, both of which are critical to maintaining and increasing their market share, and thus have a more strategic feel.
But Regus boss Mark Dixon insists this is more than just a minor point of interest: he suggests it's a clear argument for the Government giving more support to SMEs. Since they make up such a big chunk of the economy, he says, 'ignoring this community could have a significant delaying impact on national recovery', he says. And he's probably right, though we're not quite sure where he expects this cash (because that's what 'support' effetively means) to come from.
Dixon also couldn't resist a bit of special pleading. Companies, he suggests, have 'an urgent need... not to return to their old ways of doing business'. This apparently includes looking at 'new workforce and workplace strategies' - or as he might have put it, 'getting rid of your current office space and relying on temporary digs at Regus instead'. Well Dixon wants to try and boost next year's revenues too...