Can UK sport do the business?
Many British sports are a financial basketcase - look at the Premier League. It's time organisers and owners worked out how to make money, without killing the spirit of their game.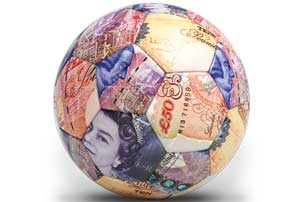 A couple of miles from Mount Kilimanjaro, in the midst of the Tanzanian countryside, at the epicentre of what might be described as the middle of nowhere, there is a bustling, busy roadside bar. Its name is proudly spelt out in bold red letters across the front: Old Trafford. And in case anyone missed the allusion, the name is flanked on either side by the crest of Manchester United, a sporting institution that plies its trade some 4,400 miles away, in post-industrial northern England.
Inside, the bar is decorated with red-and-white memorabilia and pictures of United superstar performers, from Eric Cantona and David Beckham to Wayne Rooney and Ryan Giggs. A replica of the English Premier League trophy sits behind the counter. This is a little piece of Salford in the heart of Africa.
'No, I have never been to the other Old Trafford,' the owner, Dominic, tells me. 'But maybe one day. And maybe one day Rooney will come here.'