Has a UK startup finally cracked how to make money from mobile gaming?
LAUNCHPAD: GiftGaming wants to solve the problem that only 1.5% players make in-app purchases by getting brands to do it for them.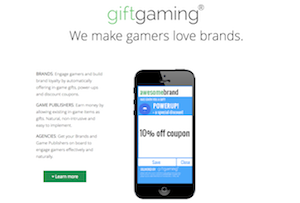 Getting mobile gamers who play for free to pay for anything is an uphill slog. Only the most committed addicts – just 1.5% according to mobile marketer Swrve - will pay for lives, boosters and the like. Most will admit defeat and give their thumbs a well-earned rest,

GiftGaming is a nascent UK startup that thinks it's found a solution: brands pay commission to offer gamers in-app purchases and a discount coupon. It could be onto a lucrative market too: mobile ad spend is set to £2bn in the UK this year, according to researcher eMarketer, while in-game ads are worth £1.1bn.

The company is barely out of its pram – it's still trialling its service privately with 'specific brand and game publishing partners', hasn't raised any funding yet (although it just launched a campaign on equity crowdfunding site Seedrs) and was recruiting for a 'Chief Operations Officer and co-founder' only three months ago (since when do co-founders get hired instead of doing the actual founding?).

But any business worth their salt needs to figure out how to monetise mobile users or advertise to them. If GiftGaming can convince brands and game companies it can help them do that, it won't take them long to get investment and customers on board.