UK startups' finance Catch-22
A new report claims that our energetic startups are still hamstrung by lack of investors - and the US won't help either.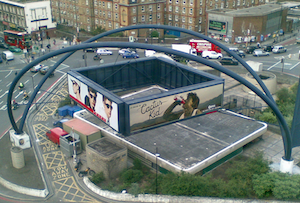 TechCity, east-London's achingly hip technology cluster has many things: a swathe of technology start-ups, more nerds than you can shake a Rasberry Pi at and a (pretty ugly) 'Silicon' roundabout.

What it doesn't have, though, is enough early stage investment to keep its startups ticking over. Well, that's the case if you believe the findings from a new Deloitte Report released this week.

The report, London Enabling a World Leading Digital Hub, has plenty of good news for London's black-rimmed specs-wearing techies. For example, London's technology, media and telecoms (TMT) sector generates an overall economic contribution of £125bn a year (that's an impressive 8% of UK GDP).

But the findings have pointed to a chasm in funding for early stage companies. Deloitte found the amount of technology-flavoured venture capital investment available in London is a measly one tenth of that in Silicon Valley.

The gap appears to be in the 'growth' stage or the £500k - £4m range, meaning start-ups with potential can't get their foot in the door.
'We need our financial sector to support the technology sector in developing global players,' says Jolyon Barker, global lead for Deloitte's TMT arm.

So what's to be done?

Get thyselves across the pond, you might suggest, and see if you can get some of that Silicon Valley cash stream to point over here.

It has been done before. Old Street-based start-up Songkick headed Stateside last year in a bid to get some much-needed moolah to grow the business. The live music entrepreneurs behind it came back with a not-too-shabby $10m (£6.3m to you and I). The funding round was led by Sequoia, a US Venture Capital firm which hadn't invested in a UK-headquartered company before.

By all accounts, though, this cross-Atlantic money exchange is no easy one. MT spoke to Steffan Aquarone, chief executive and co-founder of Droplet about his recent funding trip to the States.'

'We didn't raise anything in the States despite going out with full spirits!' exclaims Aquarone.

'There was a simple reason it didn't work. Investors spray out money across the exit doors of Stanford and cross their fingers – but they only do this for companies based in the States. We were "go big or go home" and fitted their profile, but not in location. We weren't prepared to move.'

So what does the entrepreneur think of the investment landscape back home? Does he agree with Deloitte's findings?

'Here, funds still want to see more a radical edge and some of the classic indicators of scalability and success before they put money in. The gap isn't from £10m plus, it's in the £1m - £5m space. The problem is, they want to see signs of growth, which are unachievable without the money the companies are looking for in the first place.'

A Catch-22, good and proper.

Headlines in the technology press have been abound with suggestions that TechCity could rival Silicon Valley – or at least try. If that is to be the case it seems something must change within our investors' attitudes to risk.