Is the UK suffering a brain drain?
New research suggests that British companies are finding it increasingly hard to hang on to top talent...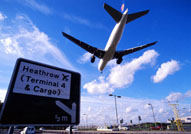 Recruitment consultancy Harvey Nash reckons that Britain may be on the verge of a brain drain, as highly-skilled workers decide to pack their bags and head for less turbulent climes. The latest ONS statistics, due out this week, are expected to show that 2006's record emigration figure of 400,000 has shot up again since then. And with the British economy stagnating, the cost of living rising and the pound plummeting, you can understand why...
A Harvey Nash survey of over 500 senior managers found that one in four are already losing skilled workers overseas, while another 49% are worried that it's going to start happening soon. Some of those leaving will be immigrants returning to their home countries – for instance, a sizeable proportion of the US, French and German citizens working in the City are likely to return home in the next 12 months.
But the problem is broader than that. Harvey Nash reports that candidates are now far more open to the idea of moving overseas for a job – perhaps to the emerging markets of the Middle East or Latin America. 'Whereas before [persuading someone to relocate] would have been fraught with problems and difficulties, because of the job market as it is now, people are seriously considering emerging economies and different markets,' Harvey Nash CEO Albert Ellis tells MT.