And the UK's commuting hub is... London!
One map shows how the capital distorts the country's daily commute.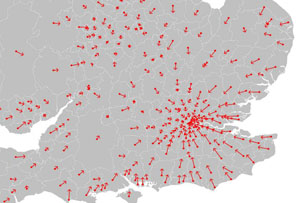 No, the weather hasn't gone crazy. This is a map from Savills' Residential Analyst Neal Hudson, showing the average direction and scale of commutes, using data from the 2011 England and Wales Census. Each arrow represents daily movement out of a local authority (LA). The length of the arrow shows how many people are travelling, and the direction shows, well, the direction.
Unsurprisingly, London dominates the South like the terrible Eye of Sauron, ensnaring hapless hobbits and Home Counties Mondeo drivers alike. The arrows exaggerate the story, though.