Unemployment figures give hope for 2010 - or do they?
The smallest rise in unemployment for 18 months sends mixed messages about next year's prospects.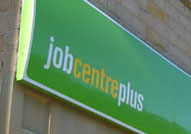 Unemployment rose again in the three months to September, but not by much: the jobless count climbed just 30,000, to 2.46m. In fact, the number of people in some kind of employment actually increased during the period for the first time since the middle of last year (probably because there are more people being force to take part-time rather than full-time jobs), while the rise in youth employment also came in below forecasts. All of this might seem to suggest that the worst may be over – but it's hard to see how companies can avoid more job cuts as they attempt to emerge from the recession. So have we really reached the bottom, or is this just a dead cat bounce?

Let's look at the figures first: according to the ONS, the smaller-than-expected rise keeps the unemployment rate stuck at 7.8%, confounding predictions of a rise to 8%. The number of benefit claimants increased by just 12,900 last month, to 1.64m. And 29m people are now in work, a rise of 6,000 – the first quarterly hike since the three months to May last year. Youth unemployment also rose less than expected – but although it didn't soar above the 1m mark (as some experts were suggesting), a total of 943,000, equivalent to a record rate of 19.8%, shows that 16-24 year-olds are still paying a disproportionate price for the failures of the financial sector (in which very few will have played a part).

Generally speaking, lower-than-expected unemployment figures are A Good Thing, not least because they suggest we're through the worst. This is reinforced by a survey of European firms released this week by consultancy Watson Wyatt, which found that the rate of lay-offs is likely to 'slow significantly' over the next six months.

Of course, 'slow' is a long way from 'stop'. And although we hate to be the jeremiah, it's hard to be too optimistic about the job market's prospects just yet. Even if we do technically emerge from recession this quarter, the pressures on cash and the damage to balance sheets probably means companies will have to keep cutting costs in the coming months (look at Lloyds, which has just announced another 5,000 lay-offs). Then there's the public sector; if the Government ever gets round to chopping public spending, there are likely to be lots of job cuts there too.

So not much cause for celebration after all. Particularly if you're under 24.

In today's bulletin:
Unemployment figures give hope for 2010 - or do they?
Sainsbury's Christmas cheer as customers taste the difference
Bad bosses driving away staff?
MT wins BSME award for fifth time in nine years
The Parent Project: Working with morning sickness