Unemployment to hit 2.9m, says CBI
The ever-cheery trade body now believes the recession will be much worse than it originally predicted...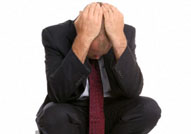 The Confederation of British Industry has delivered another damning verdict on the health of the UK economy: after the market turmoil of October, it's now predicting a 1.7% contraction in 2009, rather than 0.3% growth it was forecasting in September. The unfortunate by-product is likely to be a huge rise in unemployment – the CBI reckons that the current figure of 1.8m could shoot up to 2.9m in the next year or so. It also suggested today that the constant flow of bad news is damaging confidence. News like this, perhaps?
This latest downgrade marks a dramatic about-turn for the CBI: two months ago, it was expecting a fairly shallow recession, even suggesting that the economy would grow slightly during 2009 (albeit by a measly 0.3%). However, the 'speed and force at which the downturn has hit the economy' has caused it to change its tune, and it's now reverting to its more traditional doom-and-gloom viewpoint: 'The short and shallow recession we had hoped for a matter of months ago is now likely to be deeper and longer lasting,' said CBI deputy director-general John Cridland.
Cridland said the financial turmoil in October had had a 'severe impact on confidence and business activity'. 'The impact of relentless bad news every day on the news has caused people to stop spending', he told the BBC today, thus ironically compounding the problem. The CBI is now predicting that investment and household spending will both shrink, while unemployment and borrowing will soar – meaning that any recovery is unlikely before 2010.