Unhappy Christmas at the regulators
Bah humbug at the OFT and Competition Commission after setbacks on BAA and bank charges.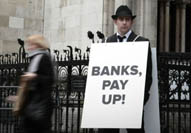 There's likely to be little in the way of festive cheer at two of the major regulators this morning as some high profile cases have run into trouble. At the OFT, its marathon investigation into bank charges has been summarily dropped, whilst at the Competition Commission, BAA won its appeal against an earlier ruling that it must sell two more of its airports.
The OFT has been probing the fairness (or not) of bank overdraft charges for the past two and a half years, in an investigation that is likely to have cost millions. It has now dropped the case after deciding that any further investigation would have 'very limited scope and low prospects of success'. Shame it took them so long to come to this conclusion but there you go.