Union threatens longer postal strikes as talks collapse again
As another three days of business-crippling postal strikes begin, the CWU warns of worse to come.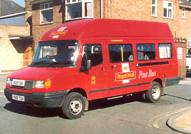 Postal workers started their latest three-day walk-out today - their second in a fortnight - with management and union bosses inevitably blaming each other for the latest collapse of talks. In fact, the Communication Workers' Union is so irate that it's now talking about stepping up the industrial action - so we might well see more strikes for even longer periods. As businesses lament the cost of all those thousands of items getting stuck in the post, the only certainty is that these strikes are having a terribly damaging effect on all concerned...

The latest strike started at 4am this morning, after the CWU and Royal Mail management failed to reach agreement following their latest three-day round of talks. This time the TUC was at the helm - but although they helped negotiate an accord a couple of years ago, they had no such luck this time. Both sides are naturally claiming that it's all down to the other lot: management says that the unions came in with a fresh set of demands yesterday morning, just when a deal seemed imminent - but the CWU insists that its proposals were perfectly in line with earlier discussions, and that management is just playing games.

The CWU's Dave Ward suggested that this last round of talks had been the 'most useful and productive' since the start of the dispute - but that's not much use to anyone as long as the postal workers are out on strike again. It's always hard to know who's really to blame when talks like these break down - invariably it's a bit of both, and although it's tempting to blame the inflexibility of the unions, clearly management have done a good job of alienating the workforce. Either way, talks can't have been going that well, or the strike wouldn't have gone ahead.

Worse still, things might get worse before they get better: CWU chief Billy Hayes is now threatening to up the ante. 'There is every prospect that we will increase the action and we could be looking at longer strikes,' he said today. Apparently he thinks they'll have more leverage as we get closer to Christmas, but it's a dangerous game - it's also possible that workers will lose even more public sympathy if the disruption gets worse. And it's hard to argue against management's central claim - that the Royal Mail needs to radically modernise and downsize to reflect its diminished role.

Meanwhile the backlog of undelivered mail and parcels continues to pile up, hammering businesses large and small everywhere, and the hostility continues to mount on all sides. It's a lose-lose situation for everyone.

In today's bulletin:
Union threatens longer postal strikes as talks collapse again
Shell shock as profit slump forces job cuts
Yves Saint Laurent tops list of wealthiest dead celebs
Editor's blog: Lemonade brews up storm State-side
Non-execs in the firing line during downturn