Unlocking management horsepower
Want to really put a promotion candidate through their paces? You'll need a car, and a horse...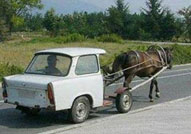 Here at MT we see some weird and wonderful theories about how to assess management potential. But even by our standards, this is an odd one: consultancy Management Intelligence suggests that if you really want to know whether your candidates are as good as they claim to be, you should put them in a car – and get them to drive you to a horse…
The idea is that candidates might be able to schmooze their way through an interview, as long as they're keen, well-prepared, and on their best behaviour (and not a complete sociopath). They'll wax lyrical about their leadership potential, leaving the interviewer wondering how much is true and how much is bluster. Of course, the best recruiters ones will get this instinctively – but it's not foolproof, and occasionally some duffers will slip through the net.
So far, so sensible. Now the more radical bit. Forget asking for a second opinion, or taking references, or looking up their holiday photos on Facebook – far better to put your candidate behind the wheel. According to Management Intelligence, people's conversation is more 'unmanaged' while they're driving: 'Any veneer or sheen to their personality is stripped away,' says MI's Fran Tindall. 'A good part of their mind is focused on driving, obeying the law and staying safe, so they are not as capable of embellishing or trying to cover up, or avoid subjects' (presumably this is particularly true if they can't actually drive, in which case their attention will largely be focused on not dying).