Unruly's Sarah Wood toasted at Veuve Clicquot awards
The tech firm co-founder won the Businesswoman of the Year award, while Propercorn's Cassandra Stavrou scooped a gong too.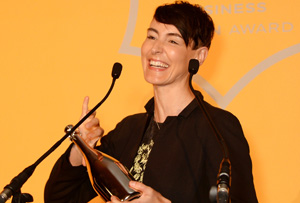 One person who'd be forgiven for nursing a headache today is Sarah Wood, co-founder of the advertising tech start-up Unruly. She has just been crowned Veuve Clicquot's Businesswoman of the Year after all. In fact, she's bright-eyed and bushy-tailed, and found the time to speak to MT in between a raft of broadcast appearances. 'It was such a fantastic party, but I made it home for my children's bed time, so I'm actually feeling in really good spirits,' she says.
Wood has joined a pretty formidable cohort – past winners include former Pearson boss Marjorie Scardino and easyJet chief exec Carolyn McCall. 'It was a huge moment and I think the reason for that was the enormity of the awards hit me on the night where I met so many of the previous winners,' she explains. 'It has such a heritage – there have been so many women who I personally admire, such as Zaha Hadid, Anita Roddick and then Madame Clicquot herself who was an incredible pioneer.'
The other finalists were Clare Gilmartin, the CEO of Trainline, and celebrity make-up artist Charlotte Tilbury, who set up her own business in 2013. The judges (including MT's editor Matthew Gwyther) pointed to Wood's demonstration as a standout female role model and Unruly's international growth as a clear indicator of success – the tech company has expanded to 15 offices and 200 staff since 2006. Wood was also crucial in Unruly's acquisition by Rupert Murdcoch's NewsCorp late last year in a deal worth a cool £114m.