Unstable UK the world's top financial centre
The UK has overtaken the US to claim top spot - despite being less stable than Nigeria...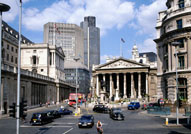 So says the World Economic Forum, which has just compiled its annual list of the 55 most 'financially developed' countries in the world. Despite the mauling it's had in the last 12 months, the City of London has nonetheless pushed the UK above the US into the top spot overall. That's a rare bit of good news for the Government, at a time when reports suggest that various big players are thinking about abandoning the capital for less taxing climes. Admittedly, we were also a slightly worrying 37th in the financial stability rankings – although as economist Nouriel Rabini points out, greater stability is not necessarily a goal in itself…

The WEF, whose board includes the likes of Kofi Annan and Tony Blair (and hopefully some economists, with a bit of luck) has been analysing no fewer than 120 different variables, ranging from corporate governance to foreign exchange markets. And although the UK's score came down almost 10% this year, it was still enough to edge in front of the US (which was down 12.5%). The WEF adjudged London to be the best location for M&A, insurance and capital markets, and second-best at banking (cynics will argue that this is a fairly worrying indictment of everyone else). More grist to the mill for the anti-tax and regulation lobby.

On the other hand it wasn't so impressed with the UK in terms of stability: with a ranking of 37 out of 55, that puts us below the likes of Panama, Colombia and the notoriously unstable Nigeria. And our currency and bank stability was ranked lower still. But although you'd hope this score would improve, we don't necessarily want to rivalling the likes of Norway for the top spot: economist Nouriel Roubini, a co-author of the study, points out that more-regulated countries tend to be more stable, but access to credit is much weaker. So there's a trade-off to be made, he says.

Although this seems like good news, on the face if it, you could argue that coming top of this list highlights the UK's problem – our score is so high because our financial services industry is so big, and we're clearly very good at it. But the flipside is that our economy is a lot more reliant on it as a consequence, while manufacturing and industry have received much less attention. And either way, we'd be very surprised if the next few years didn't see an exodus of firms looking to steer clear of the political heat.

In today's bulletin:
Unstable UK the world's top financial centre
Women don't want to work full-time
JJB Sports: the story that keeps on giving
Secret Millionaire seeks frustrated entrepreneurs
Don't write people off too soon, with YouTube