US doubles up with $140bn Bank of America bailout
The US is to throw more mind-boggling sums of cash at the downturn, including a $140bn BoA bailout...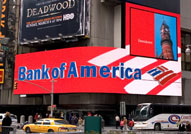 Financial behemoth Bank of America is set to receive a massive $140bn state lifeline, as President-elect Obama prepares to spend more than $1trn on getting the US out of recession. The BoA rescue, which includes $20bn in cash plus $118bn of guarantees for a pool of its dodgiest assets, comes just after the bank completed its acquisition of Merrill Lynch – rather suggesting that the management may not have done its sums properly (or that they were misled, as they're now claiming). But although it leaves the BoA board rather red-faced, at least it shows that the US government is prepared to do whatever it takes to keep the banking sector afloat...
The BoA bail-out money is coming from Hank Paulson's TARP pot, after President-elect Obama was given the all-clear by the Senate to spend the remaining $350bn of the controversial $700bn fund (although only after managing to put down a Republican rebellion, by promising to spend a substantial chunk on tackling the mortgage crisis). BoA was actually seen as one of the stronger banks, as evidenced by the Merrill deal – but after its share price dipped 18% yesterday (along with most of the other banks, to be fair), the US government was forced to step in and bolster its capital position. It'll be taking a stake in the bank in return.
And the spending won't stop there: the majority Democrats in the House of Representatives have just unveiled plans for a further $825bn 'American Recovery and Reinvestment Plan', developed in conjunction with the incoming President – a hugely expensive package of stimulus measures for the economy. Consisting of $550bn in emergency spending (which will be used to build roads, bridges, and schools, and provide healthcare benefits to low-income families) plus another $275bn in temporary tax benefits, this will mean Obama has a war-chest of $1.175trn to fight the recession. It's an almost unimaginable sum, and could double the US national debt (which is already at record levels).