US hedgie Tepper bags $2.5bn Christmas fund
US hedge fund manager David Tepper has 'earned' $2.5bn backing beleaguered banks this year.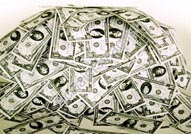 Tepper, head of new Jersey Based Apaloosa Management, secured the vast seasonal payout by dint of betting that the banks which were is such a terrible state earlier this year would have recovered by the time the year end came around. And the former Goldman Sachs trader was right – he bought Bank of America at less than $3 a share and Citigroup at just $1.

Given that Citi is now trading at around $3.40 and BoA at a whopping $15, you can see that Tepper certainly snaffled a hell of a bargain, and did so at a time when few others were prepared to take such a risk. Not for nothing is he reported to keep a pair of brass testicles on his desk.

But does that make him worth a $2.5bn salary? That's 30% of the profits of his entire firm, by the way, and will double Mr Tepper's already sizeable $2bn net worth. It certainly dwarfs the $30m made by UK based hedgie Crispin Odey who took a similar punt on bank recoveries.

Of course, this is a question that most in the financial sector have already answered –you wouldn't be a banker if you didn't want to make big money, after all. But for the rest of us the events of the last 18 months have thrown such posers into extremely sharp relief. So the tale of Tepper's fortune makes a rather apt parable for the sticky wicket that high finance finds itself on at the moment.

One the one hand, he clearly stuck his neck a long way out – something more timid types were afraid to do for fear of having their heads chopped off. Surely such risky backing of hunches is the very essence of the entrepreneurial spirit, that fundamental driver of economic growth which we should all applaud?

But others will question how much of a real, personal risk was he actually taking. He wasn't betting with his own money but that of his clients, and given the vast sums of public money being poured into them it would have been extraordinary if the banks hadn't recovered, at least to some degree.

It all goes to the heart of the matter which is exorcising public and political opinion right now – vast personal rewards are being taken by individuals who, in reality, bear very little of the financial risk associated with their decisions.

The fact that when the you-know-what did hit the fan and the time came for a bailout, those who had benefitted so richly and for so long from the upside were nowhere to be seen, hasn't helped the industry's cause much either.

What's to be done about it? Even though they haven't yet realised it, the question of the social acceptability or otherwise of what they do will be a very big one for those in the banking sector in the months to come. Surely the penny will drop eventually, that by continuing to ignore the cries of public outrage they are only making things worse for themselves in the long run?

Then again, maybe not. Turkeys – not even those which have just enjoyed a billion dollar payday – don't vote for Christmas, after all.
In today's bulletin: