US supremacy and China's fall from grace: Business Competitivity Index 2006
Switzerland, Finland and Sweden may be the overall winners of The Global Competitvemess Report 2006-2007, but when it comes to business, the US and Germany rule.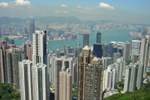 The Business Competitivity Index is part of the annual report on global competitiveness and highlights global economic trends, national weaknesses and strengths, as well as the requirements for successful economic development.
The US, which have ranked first four times in the last six years, score high on business environments, financial markets and innovation. Germany, second, has done well thanks to its export-oriented economy with a strong regulatory framework and the reliable reputation of its companies.
Amongst the success stories for 2006, Hong Kong increased its ranking by seven points to number 10, while Qatar, Norway, Indonesia and Guatemala also moved up the ranking significantly. Conversely, China, France, Taiwan and the Czech Republic all lost out compared to 2005, with China on a significant downward spiral with nine places lost.
"This year's decline was driven especially by higher levels of corruption, weaker assessment of buyer sophistication, and concerns about labour relations," the study found. The country has been sliding down the ranking since 2002. Weak property rights, poor board governance and low-quality management education also contributed to the country's fall from grace.
"It is clear that euphoria about China is moderating as the realities of its competitiveness become more apparent," says the report, compiled by Harvard Business School's Institute for Strategy and Competitiveness.
India on the other hand made progress thanks to improvements in its business environment and increasing levels of company sophistication. The country went up four rankings to 27.
"The world economy is not a zero-sum game," says Michael Porter, professor of strategy at Harvard Business School and one of the world's expert on competitiveness. "Many nations can improve their prosperity if they can improve productivity. The central challenge in economic development, then, is how to create the conditions for rapid and sustained productivity growth."
The report highlights its emphasis on sustainable prosperity, which is measured by a country's level of gross domestic product per capita adjusted for purchasing power.
Source: US tops business competitiveness index 2006
HBS Working Knowledge
http://hbswk.hbs.edu/item/5454.html
Global Competitiveness Report 2006-2007
World Economic Forum
http://www.weforum.org/en/initiatives/gcp/Global%20Competitiveness%20Report/index.htm
Review by Emilie Filou