Valeant: Big Trouble in Big Pharma
Shares in the drug company accused of price gouging just fell 51% in one day. Someone fetch the violin.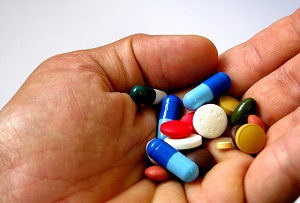 Chief executives shouldn't obsess about the share price. Trading is a game, after all, and stock a swinging speculative asset that often doesn't reflect the underlying growth or profitability of a business. But when your share price chart looks like this, it's probably time to start paying attention.
Canadian pharmaceutical ex-giant Valeant is rapidly turning into Mike Teevee, the incredible shrinking boy from Roald Dahl's Charlie and the Chocolate Factory. Except Roald Dahl's Mike eventually stopped shrinking – the same may not be said for Valeant. The company's stock fell 51% yesterday, and it's 86% down from where it was in September. Roughly speaking, that's $70bn (£50bn) of shareholder value that's been sluiced in six months.