Value of footie transfers shoots through the stadium roof
Fees paid for some of the world's greatest football players has risen by an eye-watering 36%, despite a drop in the number of transfers.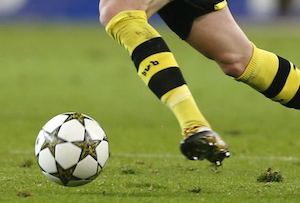 Thought the world's super-salaried football players couldn't possibly be valued any higher? Think again: transfer values have just gone through the roof.
Despite the fact the number of completed player deals fell by 2% in the first six months of 2013, the price of fees paid was booted up by 39%. There were 5,204 transfers included in the calculations, the total value of which came to £612m.
The increase has been put down to economic recovery in certain countries, but it could also be down to increased transparency created by Fifa's Transfer Matching System (TMS). The system was introduced to make transfers more legally compliant and clear. (Presumably they just 'forgot' to write down some of those million pound deals before...)

The surprising fact is that according to TMS head Kimberly Morris, most of the transfers which took place this year have been free moves. This means the £612m came from only 12% of the total transfers.

Hefty transfers into the English Premier League from this year have included Mathieu Debuchy from Lille to Newcastle United for £5m, Philippe Coutinho from Inter Milan to Liverpool for £8.5m and Nacho Monreal from Malaga to Arsenal for £10m. Elsewhere Carlos Tevez moved from Manchester City to Juventus for a tidy £7.6m.

The data revealed by TMS also found the top global seller was Brazil and the most exuberant buyer was England. Our teams' coffers must be deeper than the Treasury's…