VC gets Gore for green push
If you're looking to boost your environmental credentials, there's no hotter name to be associated with than Al Gore, the world's most famous climate-change-campaigning ex-vice president. So US venture firm Kleiner, Perkins, Caulfield and Byers will have left their rivals green with envy after their latest coup.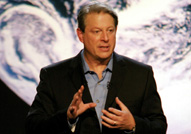 KPCB, one of the top VCs in Silicon Valley, is going into partnership with Gore's fund management company Generation Investment Management, to invest in alternative energy sources and green technologies. Gore will join the VC's board, with KPCB partner John Doerr returning the favour at GIM, and the two are expected to raise a joint fund. 'This alliance brings together world-class business talent to focus on solving the climate crisis,' Gore said modestly today.
Gore, who has re-invented himself as an environmental activist since losing out to George Bush for the presidency in 2000, brought the climate change campaign into the public spotlight with his 2006 documentary 'An Inconvenient Truth'. OK, so it may have been recently criticised by a judge for containing a series of factual errors (and for being alarmist) – but it did bag him two Oscars and a lot of publicity, not to mention the Nobel Peace Prize. So he brings some major kudos to the table.
But KPCB may be just as interested in his political contacts. The clean technology sector relies heavily on government support – through regulation and subsidies, for example – so for any firm investing in early-stage businesses in the area, it will pay to have a man who knows his way around Washington.