Veronique Laury has her work cut out to turn around Kingfisher
The retailer is closing B&Qs and expanding Screwfix as DIY drops off.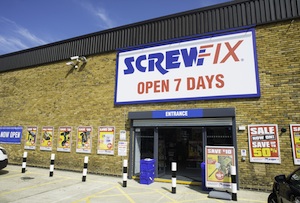 Veronique Laury has certainly put a marker down since taking over as chief executive of FTSE 100 DIY group Kingfisher from the much-garlanded Sir Ian Cheshire in December. She's cleared out the leadership team, announced the closure of a sixth of B&Q's 360 stores and put into action a plan to turn 'a locally managed set of businesses' into 'ONE' Kingfisher (caps and quote marks included).
But continuing economic malaise in France, where it makes a third of its sales, and the increasing trend to employ tradespeople rather than doing your own DIY, isn't making Laury's job easy.
Kingfisher's adjusted sales (i.e. stripping out one-offs like the sale of B&Q China) for the 26 weeks to August 1 fell 4% to £5.4bn, although stripping out currency swings they did rise 3.5%. Adjusted pre-tax profits slipped 2.3% to £384m.