Veteran banker gives Branson a run for his money
Luqman Arnold may not be one of the most high-profile names in British business – but when it comes to saving stricken mortgage lenders, he's got a pretty impressive CV. So his interest in Northern Rock may be making Richard Branson and co. a little twitchy this morning.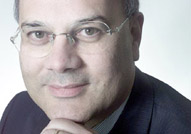 Arnold became the latest to throw his hat into the Rock ring this morning, when his investment vehicle Olivant said it was 'preparing a proposal' for the Rock board. It's not planning to buy the lender – instead it wants to supply a management team that would take over the running of the business, in exchange for an unspecified chunk of equity. As chairman, Arnold would presumably take over as chief executive.
And he's got impeccable credentials. A former president of Swiss bank UBS, his main claim to 'fame' is rescuing Abbey, another British building society that was facing implosion. Like the Rock, Abbey had been borrowing heavily from other banks to try and accelerate growth, but this dried up in the wake of the internet bubble and Enron blow-ups. With the lender in dire straits, Arnold was parachuted in with finance director Stephen Hester to mount a salvage operation – and was able to turn it around before selling it on to Spanish bank Santander.
So he's clearly been there and bought the T-shirt. Plus there's another advantage for the Rock's shareholders: it gives them a chance of salvaging some return from their shares, which would be worth almost nothing if the other bidders (who include Branson's Virgin Money and private-equity groups JC Flowers and Cerberus) succeed with their offers. And since Arnold's team will apparently work without salary, making all their money from the equity gain, it won't even cost anything in the short term. So in some respects, it's a one-way bet.