Vicars losing faith in paltry pension pot
Anglican vicars may lose out after the Church gambled - and lost - with its pension scheme money.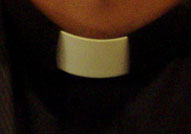 With a relatively measly salary of about £20,000 a year, it's unlikely that the UK's vicars are in it for the money. But even they may need more than a wing and a prayer to live comfortably through their twilight years. The FT reports today that there is a hole of biblical proportions in the Church's pension pot, as a result of the collapse of share prices earlier this year. The entire pot for clergymen and women was invested in equities in the 1990s – a bold move which has clearly come unstuck in the last twelve months or so. And sadly, this means that the retirement prospects for those that have recently entered the church are decidedly bleaker than those of their older peers...

While vicars are unlikely to be found cruising the countryside in expensive sports cars, they don't fare too badly: their low wage (otherwise known as a 'stipend') is bumped up by accommodation provided free of charge. However, many parish vicars rely on a healthy pension allowance to buy their own home once they retire and have to vacate the tied-housing provided by the church. This is possible because Church pension benefits have historically been pretty generous, with a tax-free lump-sum payable on retirement. And for those who still can't afford to buy their own digs, they are able to fall back on the Church's Charm scheme, through which they can be provided with housing on a means-tested basis.

Unfortunately, the collapsing stock markets have forced the Church to re-think its retirement plan. It's not suggesting shelving its pension scheme completely, but it needs to slow the rate at which benefits are accumulated in order to save itself a bit of cash. This would mean that the pension age would be raised to 68, requiring 43 years of service (rather than 40) for a full pension. And while the changes are unlikely to impact those approaching retirement age now, it will affect those just entering the ministry, who could receive just half of what current retirees get.

All of which goes to show that nobody's immune from the ill-effects of the credit crunch. At least vicars have the consolation of faith...

In today's bulletin:
Darling unveils RBS and Lloyds break-up plans
ITV can't even give Friends Reunited away
Sign up for our free MT breakfast debate - why bosses and IT types really need to talk more
Vicars losing faith in paltry pension pot
Entrepreneurs driven by hardship, not hard cash