VIDEO: We cannot consume the resources of three planets
Unilever's SVP finance, global supply chain, Harold van den Broek, explains his firm's vision for doubling the size of the business with sustainability at the forefront of the strategy.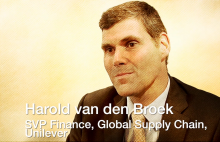 This video is part of MT's Smart Finance week in association with Barclaycard. To see MT's full collection of interviews for Smart Finance, click here.