Vince Cable to pump £60m into SMEs
The business secretary's Regional Growth Fund is set to invest £60m into British SMEs, protecting around 8,000 jobs over the next six years.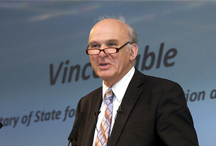 You may not think £60m is a large investment given how many hundreds of thousands of SMEs there are in the UK, and you'd be right. Spot on. In the latest bit of political posturing, Vince Cable has announced a £30m contribution from the government to drive growth amongst members of the Community Development Finance Association (CDFA). The other £30m will be given in lending by the Co-Operative Bank and the Unity Trust Bank and is designed to help firms sidestep mainstream sources of finance.
Saint Vince even went as far as publishing a piece in the Guardian on the fund, saying: 'When you see the projects that will benefit then you realise the impact it will have in the community. It means that the local social enterprise will be able to provide better care in the community or that the small firm can improve their production process to help them expand.' Lovely warm words, but even though Vince has 'made it one of my priorities to get credit flowing again,' 60 mill is hardly a torrent, is it?
The chief executive of the CDFA, Ben Hughes, is pretty chuffed with the allocation of some of the cash to his members. 'It's a milestone, yet just the starting point for an exciting – and timely – expansion of the community finance sector; greater investment like this offers a new way of creating wealth that's sustainable and ethical yet that also makes sound business sense' The love-in was completed when Cable visited a bake ware manufacturer in Birmingham, Utensa, which has already received a £30,000 loan.