Virgin Atlantic lands short haul routes to Scotland
Branson's airline expands its domestic business with routes from Heathrow to Edinburgh and Aberdeen.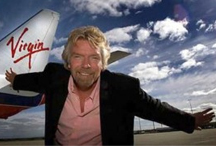 Does Beardy's good fortune know no bounds? This year alone, he has acquired Northern Rock from the government and created his own retail bank, Virgin Money. He's overturned a decision to award the West Coast train line franchise to a competitor and prompted a full overhaul of the Department of Transport internal processes. And now he's got his hands on BMI's old landing slots at Heathrow. MT doffs its cap.

The prized slots at Heathrow were made available by regulators following the takeover of BMI by IAG earlier this year. Under competition laws, the British Airways owner couldn't hold the monopoly on links out of the UK's busiest airport. But Virgin's victory will no doubt stick in Willie Walsh's craw. The IAG boss has had a long-standing feud with Branson and once said of the billionaire, 'I'm not one of his admirers. I don't see him as someone who deserves my admiration.'

Virgin Atlantic will start running services to Edinburgh and Aberdeen – both popular routes – from March 2013. It doesn't actually have the extra aircraft to handle the additional routes as yet, but plans to lease a few Airbus A320s from another operator. That's classic Branson: don't let a small thing like a lack of aircraft get in the way of a good deal. Although of course as he also still runs the West Coast rail route after the franchise debacle, his airline could now be seen to be competing with his train business. The perils of success eh?

By winning these slots, Virgin Atlantic furthers its move into short-haul, which began last year with a new route between Manchester and Heathrow. Steve Ridgeway, soon-to-step-down chief executive of Virgin Atlantic, says, 'We have fought hard for the right to fly short-haul and take a strong challenge to British Airways within these shores.'
Will he be able to make any money, given the competition from EasyJet and Ryanair? Some analysts are sceptica,l but if the new flights provide more passengers for Virgin's long haul services it may not matter whether the domestic routes make money in their own right.

Let's just hope that crews don't forget they are on short haul and head out over the Atlantic instead of up to Scotland. Could be tricky to explain to the passengers...