Virgin and easyJet swoop on Gatwick
The two UK airlines may join forces as part of a £2.5bn bid for Gatwick Airport.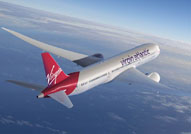 Virgin Atlantic and easyJet are apparently in talks with various financial institutions about a consortium bid for Gatwick, which is being put up for sale by current owner BAA. The Spanish-owned airport operator is expecting the Competition Commission to rule next year that its monopoly is bad for passengers, so it's trying to flog Gatwick beforehand – both to avoid a fire sale and to raise some much-needed cash, which it can use to pay off its massive debt pile and continue its sprucing-up of Heathrow.
The Gatwick auction, which is being handled by RBS and HSBC, is likely to take place in the next month or two, and is expected to put a price tag of between £2bn and £2.5bn on the UK's second-biggest airport. Now you might think that sounds like rather a lot for airlines to be shelling out after the disastrous year they've had. But the idea seems to be that Virgin and easyJet won't actually be stumping up any money, as such – they'll just guarantee to use Gatwick as a base for most of their aircraft, thus providing the airport with a guaranteed revenue stream (and the money men always like those).
They will of course also be able to call upon substantial experience of the industry, and – so they say – a more targeted approach than the present incumbent. A Virgin spokesman told the BBC that Gatwick had been 'starved' of investment in recent years, because BAA has been so focused on sorting out Heathrow (and admittedly, it's needed a lot of sorting out). He said that any Virgin-led deal would mean the airport becoming much more customer-focused – a nice thought, though we'll believe it when we see it.