Virgin on a Rock victory
Richard Branson's clearly had a busy weekend. The bearded maestro's Virgin Group has nosed ahead in the race to buy Northern Rock, after being named as the preferred bidder by the ailing lender's board.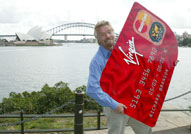 The Rock said in a statement this morning that 'it wishes to take forward discussions on an accelerated basis' with the Virgin consortium, which also includes turnaround specialist Wilbur Ross, insurer AIG, asset manager Toscafund and First Eastern Investment Group.
The deal will involve the consortium injecting the Virgin Money business (valued at £250m) plus £1.3bn cash. Half of this will be raised via a rights issue, which will involve selling a load of new shares at 25p each – not great news for existing shareholders, whose shares were trading at more than three times that on Friday. On the other hand, at least they'll be able to buy in on the same terms as Virgin, so they get to share in any subsequent upside (existing shareholders would retain a 45% stake, with Virgin and co. owning the other 55%).
The other good news is that Virgin is apparently not planning 'any material reduction' in headcount – so wide-ranging job cuts may not be necessary. And the group will pay off £11bn of the Rock's £26bn debt up front, with a view to paying off the rest over the next few years – so the Bank of England will be relatively happy (although it still has to square away the extended loan period with the EU).